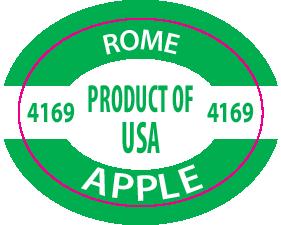 Rome 4169 apple plu stickers are made with paper which is more eco friendly than plastic stickers, and finished with a varnish top coat to keep the inks from smearing. All our produce label stickers have FDA approved direct food contact adhesive for food safety.
All our labels can be custom formatted to suit your needs. With our in-house design team we can modify the artwork within 24 hours to put any information you may need on the plu sticker.
To order, please fill out a FREE quote request: CLICK HERE
Label size: 0.62″ x 0.81″
Shape: oval
Core size: 1″ or 3″
Adhesive: FDA approved direct food contact
Do you need to speed up your labeling process? Check this out:
For more info and to order the PLU-1000 electric automatic sticker machine CLICK HERE.